R4WH 2014 Fundraising Letter

Hello Family and Friends,
I am cycling 3,253 miles from San Diego, CA to Washington D.C. from March 26 – May 13, 2014 with anon-profit organization called Ride For World Health (R4WH). This organization has three important goals –Education, Fundraising, and Advocacy – and was createdin 2006with a few, very simple ideas in mind:
1) There are many people in the U.S.A. and abroad who are not receiving proper healthcare.
2) There is a significant link between poverty, disease, and lack of access to healthcare.
3) Something can be done about it, and it starts with education.
EDUCATION: During the ride, we deliver a coast-to-coast lecture series to all age groups, from elementary and high school students,senior citizen centers, and rotary clubs to major medical centers and universities. We lead discussions on issues ranging from good hygiene skills, childhood obesity, mental health, and health maintenance for the "baby boomer" generation to disease in poverty, women's and children's health, access to healthcare, politics on foreign aid, and the pathophysiology of infectious disease.
FUNDRAISING: Since 2006, R4WH has donated over $500,000 to support innovative and worthwhile non-governmental healthcare organizations. For 2014, we have chosen three beneficiaries: Empower and Advance is a recently founded organization that aims to train community members to be health workers in vulnerable communities through an interactive video curriculum to triage and treat medical emergencies. Their pilot program is in Haiti, but the curriculum is animated and intended to be language interchangeable so that it may be used in countries suffering the consequences of war and natural disasters (please see http://empowerandadvance.org/).HEAL Africa is a US organization founded over a decade ago during the peak of conflict in the Democratic Republic of Congo as a direct response of the horrific conditions. Through support of a full-service training hospital in Goma and its community-based initiatives in public health, community development, and conflict resolution, HEAL Africa works with individuals and communities to restore health, build hope, and help create a better future for all people of the DR Congo (please see http://www.healafrica.org/). PODEMOS, the Partnership for Ongoing Developmental, Educational, and Medical Outreach Solutions, strives to provide both essential primary care services to marginalized communities in Honduras and a valuable educational experience to its student participants. PODEMOS focuses on an interdisciplinary approach, innovative medical record keeping, and relationship-centered care. Their vision is to create a site for long term outreach and clinical care where health professional students can be directly involved in caring for and learning from patients from the marginalized populations in Honduras (please see http://podemosu.org/w/).
ADVOCACY: We advocate for the freedom and health of all people. In our home country, that means that we support the efficient and safe delivery of health care to anyone in need, regardless of age, sex, race, illness, or ability to pay. Abroad,it means that we support the efforts of the World Health Organization and the United Nation's Millennium Development Goals, which range from cutting extreme poverty in half to halting the spread of HIV/AIDS and providing universal primary education.
SO… HOW CAN YOU HELP?
First, I am asking for donations of any size to help meet my personal fundraising goal of $2,700. Donations go directly to our three beneficiaries and are tax deductible.
Checks may be made payable to Ride For World Health with Dan Hohs in the memo section and mailed to Ride For World Health, PO Box 8234, Columbus, OH 43201. Donations may also be madeonline via credit card or Paypal at http://r4wh.org/dan-hohs
A gift of even $1 is greatly appreciated! Thank you for your confidence in our cause.
Second, if you or your friends or family are along our route (please see http://r4wh.org/2014-ride/route) and would be willing to help us out with a place to sleep, an audience to talk to, providing dinner, or even want to join us for a solidarity ride, an afternoon, a day, or a week, please don't hesitate to send me their contact information.
Lastly, please follow my progress along my ride at www.ActivePerformance.org. I will be kick starting a healthy body and healthy mind initiative in Partnership with the Chicago based non-profit Hope for the Day. Through my creative form of cycling and raising awareness about wellness and fulfillment I will be encouraging active bodies and healthy mental states throughout our journey.Please visit http://www.activeperformance.org/hope-for-the-day/ to learn about our initiative.
For more information about our route, our beneficiaries, and our riders, please visit www.r4wh.org.
Thank you,
Dan Hohs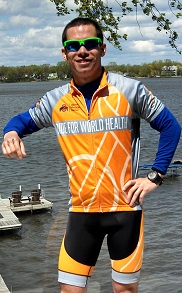 National Rider – Ride for World Health 2014
Health Activist – Hope for the Day
University of Michigan, B.S. 2009
Donor page – http://r4wh.org/dan-hohs

Email – Dan@ActivePerformance.org