Hope for the Day
Hope For The Day has chosen to sponsor me as we launch a movement to help spread the message that a healthy body creates a healthy mind. This launch officially begins on March 25, 2014 as I join Ride for World Health in San Diego, CA to ride across America to Washington, D.C. Hope For The Day is a nonprofit movement committed to utilizing music, art, and creativity as a defense mechanism to suicide. Their alternative approach strives to offer education, prevention and hope through creative expression. Through my forms of creative expression, cycling and an imaginative approach to promoting wellness and fulfillment, I will be helping to kick-start their healthy body, healthy mind initiative.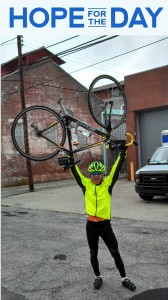 My entire life has consisted of school, internships, and working in the corporate world in pursuit of what many perceive as the American Dream. I've worked as a software consultant for the past four years and have been content with the lifestyle it afforded me. During the countless hours running and biking while training for my Ironman I had a lot of time to think about my priorities. I decided to leave my corporate job behind in pursuit of a lifestyle that helps me achieve my own dreams. I left with the hope that I could use my creative expression as a way to help enrich lives and positively affect the communities around me.
I signed up for Ride for World Health to help educate and fundraise for glboal health care issues. As a part of the healthy body/healthy mind initiative, I will be using my our bicycling journey across America to help start a movement for global change and awareness. In the communities we cycle to, R4WH riders deliver a lecture series to educate our audiences on both international and domestic health care issues. Topics discussed range from good hygiene skills, childhood obesity, mental health, and health maintenance to disease in poverty, women's and children's health, access to healthcare, politics on foreign aid, and the pathophysiology of infectious diseases.
My focus on the healthy body/healthy mind connection is rooted in both a personal and professional exposure to the issues of mental health.  Globally, 1 in 4 people suffer from mental disorders. Four of the six leading causes of years lived with disability are depression, alcohol use disorders, schizophrenia, and bipolar disorder. I believe it is extremely important to bring attention to these prevalent illnesses plaguing the world today. It is especially important because of the stigma attached to the subject of mental health. This stigma causes fear for people to even speak about mental illness. Through Ride for Ride World Health I would like to encourage dialogue surrounding wellness, hope, and healthy mental states.
To learn more about Hope for the Day please visit www.HFTD.org. Stay tuned for the official launch our mission to encourage healthy bodies and healthy minds!