Ride 4 World Health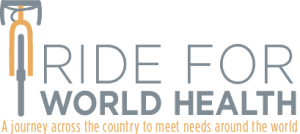 Ride for World Health is a cycling team and 501(c)3 organization based out of Columbus, OH that is centered around a 3,200-mile ride, traversing the country from San Diego to Washington D.C. We are comprised of people from across the country who share similar passions about the need for change in both international and domestic health care. Since its founding in 2006, R4WH has been dedicated to creating a dialogue on the state of healthcare in communities across the world. By bringing together activists from across the country, we hope to inspire other medical professionals, volunteers, and communities-at-large to stand up as a unified voice for the millions who suffer at home and abroad.
Throughout our ride, we raise significant funds to support non-profit organizations whose goals are consistent with our vision. R4WH empowers our audience to become informed and active global citizens through a Coast-to-Coast lecture series that is presented in most of our destination cities. In April and May of 2014, a group of medical students, health care professionals, and community representatives will participate in The Ride to promote education and awareness of global and domestic health concerns as well as raise needed funds for this year's beneficiaries: Empower and Advance, HEAL Africa, and PODEMOS.
Donations
Donations of any size are welcomed and appreciated.  Each rider is committed to meeting a fundraising goal that goes directly to our beneficiaries. They are responsible for most of the personal costs to participate in the ride.
We are largely an organization of young adults – medical students, undergrads, early-career health professionals – and as such, meeting our individual commitments is a real challenge.
You can donate by going to http://donate.r4wh.org/projects/dan-hohs/
Hope for the Day
As a part of their healthy body, healthy mind initiative, Dan has teamed up with Hope for the Day to promote healthy mental states as he rides across the country. To learn more about this initiative please visit the Hope for the Day section of the Active Performance website.