R4WH Day 1: San Diego to Julian, CA
Ride for World Health officially started our journey on Wednesday, March 26. We woke up in the darkness and scrambled to pack our luggage into the Budget truck and day bags into the support vans for the very first time. As the sun rose we donned our Ride for World Health kits (cycling jerseys and shorts) and headed for the Pacific Ocean with youthful enthusiasm. It is a tradition amongst cross country cyclists to dip your back tire at beginning of your journey and your front tire at the destination. Some cyclists will do this at state lines for cross-state rides.
In our case, we ceremoniously lined up as a team and as a wave crashed in we all dipped are back tires in the salty Pacific ocean with the hope and dreams that in 52 days we will be able dip our front tires into the Atlantic Ocean.
During my five years as a collegiate water skier at the University of Michigan, our team had a proud tradition of team spirit. We had amazing camaraderie rooted in motivating each other to ski well and succeed as a team. One of many nicknames in college was spirit man Dan and I continue to enjoy activating others. When people were looking for a morning ritual to start our ride, I naturally raised my voice to begin our Ride for World Health team chant.
We pounded on our chests and rallied around the cheer:
Me: Let's Roll!
Team: Let's Roll!
Me: Let's Ride!
Team: Let's Ride!
Me: What Are Riding For?
Everyone: World Health!
Variations of this chant would become our morning ritual in the weeks to come. We rode along the beachfront for one block and soaked up the last views of the Pacific Ocean to remember where we started.
The team made a right turn off the boardwalk headed east. We left Mission Beach behind with our epic bike ride across the entire width of the United States of America ahead of us. Navigating out of San Diego was very stimulating. For the first time our group was forced to work together to traverse rush hour traffic, stop lights, bike lanes, and small shoulders. We got our first look at the diverse landscapes that America would offer. San Diego and La Jolla are famous for it's rolling hills and valleys. The suburban So Cal neighborhoods were a stark contrast to suburbs of Chicago I grew up in. The morning sun and and gorgeous palm tree lined neighborhoods made me realize why so many are drawn to live within biking distance of the ocean. It was fun seeing how the group began to bond over riding and the camaraderie that was immediately formed from helping each other get from point A to point B. Everyone was in such high spirits from the eagerness of our first day.
The major portion of the 61 mile ride came in the form of two major climbs on our way between San Diego and Julian, CA. The team ended up splitting into two main groups. I joined the lead group as we navigated the first XX miles of the ride leading out of the San Diego suburbs into the foothills of the XX mountain range. The astonishing views and the great 70 degree weather made the direction mishaps and first hills of the day manageable. Josh, a Ride for World Health alumni who comes back every year to ride a portion of did much of the trailblazing because he was the most experienced rider amongst us. He handily used a combination of the cue sheet and his smart phone to pilot around some of the mismarked roads and a bike trail that quickly turned from paved to a mountain bike trail. We passed through some neighborhoods and soon found ourselves back on the designated route. We looked ahead and all you could see was the road leading up a mountain and realized that we had found our first major climb of the trip.
The climb consisted of XX vertical feet. For the first third of the climb Nick, Josh, Jeff, and I charged up the mountain together and stopped to enjoy the view at a scenic overlook.
We congratulated all of the riders as they came trickling in. Everyone was a bit worn out from the climb, but felt very accomplished to finish our first half day. There were high fives all around as the entire team rolled in scarfed the stack of 21 peanut butter jelly sandwiches along with some fruit for lunch. We had a quick crew change so that Alpha team who crewed during the first half of the day could ride the latter half. Team Bravo racked their bikes to act as SAG to finish off the day happy after beg. We all grabbed our jackets from the support van because it was cooling off as the clouds rolled in. This was just in time for because we got a small sprinkling of rain. With a third of the team switched out we stretched and got back on the road.
The second half of the ride we split was 30 miles which we split up into two parts totaling 2650 feet vertical feet of low grade climbing. The first 16 miles consisted of winding hills through the pastures, valleys, and mountains which made our way up partially to Julian. This time I chose to stick with Nick who had ridden the first half and Spenser who had set of fresh legs from crewing on team Alpha in the morning. We took a nice steady approach to switchbacks and uphill roads which were a low grade but never seemed to end. The slower pace of climbing the hills gave plenty of time to really soak in the beauty of Southern California. It was day 1 of riding and everyone already awestruck by all of the amazing scenery which we cycled by.
The third rest stop was a nice relief. We grabbed clementines, Combos, and of course refilled our waters. The skies started to look like rain so we put back on our jackets for the last haul up to Julian. Ahead of us we had our remain 14 miles with 1280 vertical feet of climbing straight into Julian where we were staying at the United Method Church. As the group left in high spirits Nick, Jeff, Josh, and I charged ahead once again. About 5 minutes after the rest stop the rain started. At this point, Josh started to pull away again and I stayed with him because I just wanted to get to our first destination as fast as possible. Josh and I charged up the hills and Julian seemed so far away with the rain pouring on us.
After we rode through the main part of town my legs were completely worn out from climbing all day, I was wet and cold from the rain, and my body was completely depleted of it's energy stores. I could barely keep my legs moving and I knew I was in trouble. I yelled out to Josh, "I'M BONKING!" He looked back and encouraged me to keep going and reminded me that we were almost there. He then yelled back, "You need sugar!" I remembered that I had stuffed some Powerbar Energy Chews into my jersey at the last rest stop. I quickly ate as many as I could and was temporarily rejuvenated. The energy chews gave me just enough of a physical and emotional boost to make it over the final hill. Thankfully we reached a downhill and the as we descended the church appeared quickly to our left. I was very thankful that Josh was there to get me through the bonk and remind me that I could get keep pedaling. Pastor Cindy and the crew team was there to welcome us with our bags unloaded.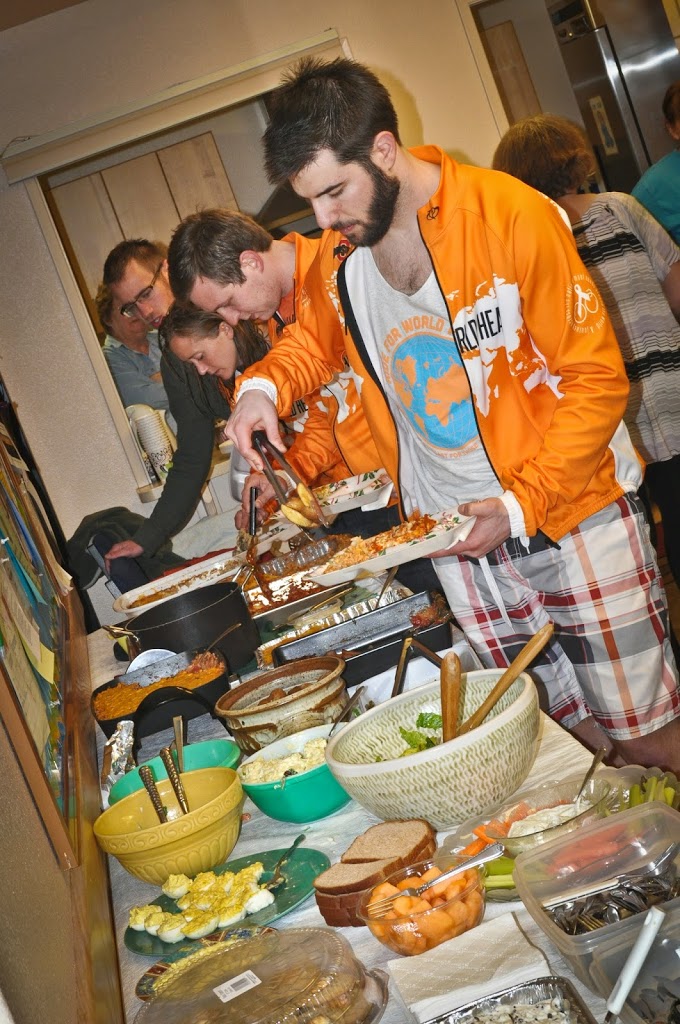 The first day reminded me of a very important lesson: for every beginning there is an end. We started of the day with an amazing amount of excitement, enthusiasm, and energy dipping our tires into the Pacific Ocean. While I am biking across the country I need to draw from the moment when the wave washed over our back tires and fresh legs to clear my mind of any struggles that I might be having during that day. I also got caught up in charging up the mountain with Josh early on in the day. If I spent 20 minutes in the red zone burning all of my energy stores before lunch, I most likely would not have bonked in Julian. I will remember that day of climbing for a long time, energy conservation will be a lesson that I am constantly teaching myself. Hopefully I can look back at this day and remember how naïve and innocent we were in the approach to our trip and view it with great perspective.
To view our route, heart rate, cadence, elevation, and pace data you can check out my Garmin Connect data for the data: