Positive Monologues & Motivation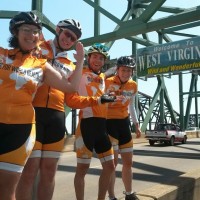 Positive Monologues & Motivation
Athens, Ohio to Harrisburg, West Virginia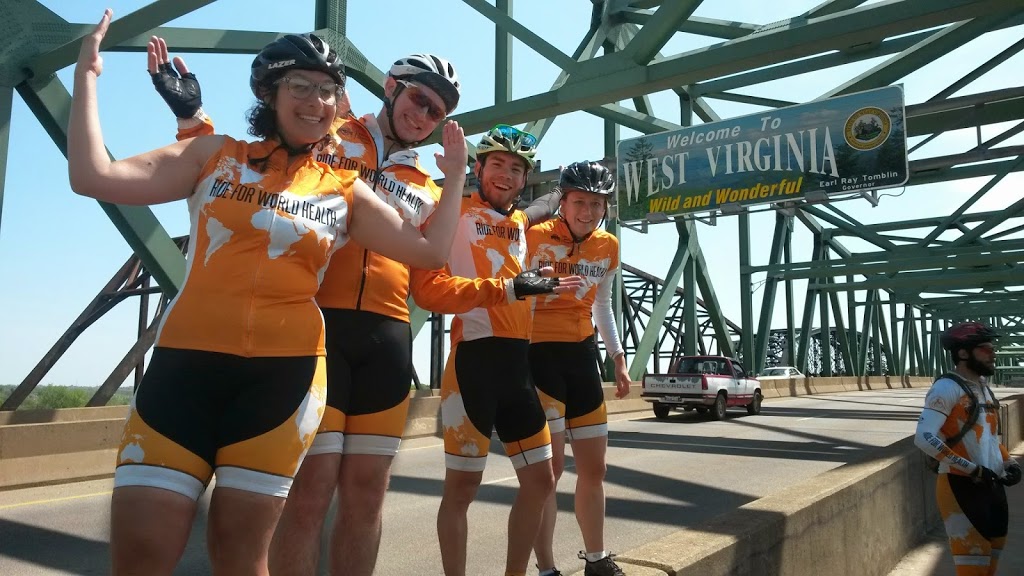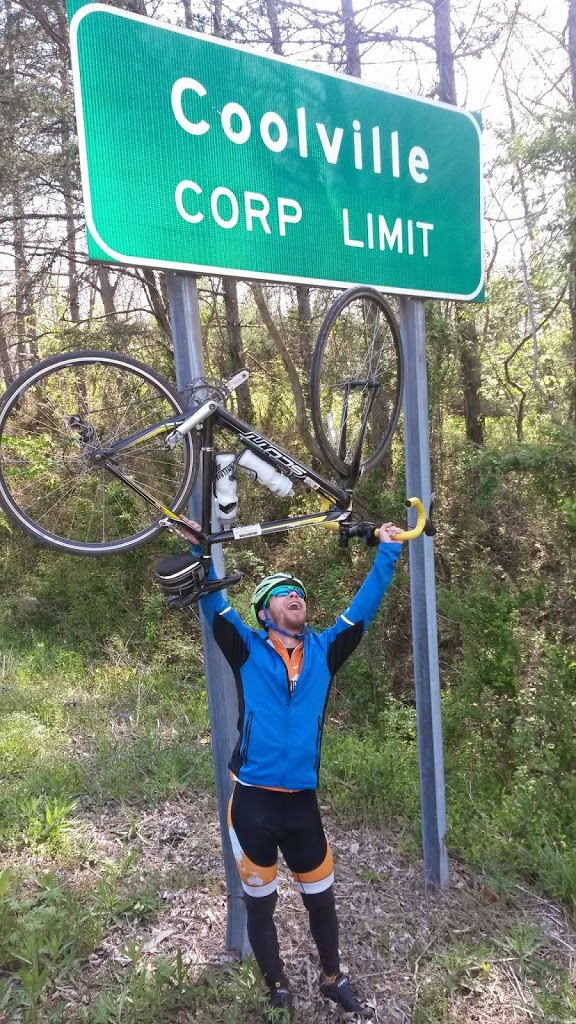 Day 33 was one of my favorite days on our trip across America. The bike baths and back roads provided an amazing back drop for a challenging 80 mile ride from Athens, Ohio to Harrisburg West Virginia. We started the day on a nice winding bike path out of Athens for the first 10 miles. This was the last of a series of awesome bike paths in Ohio which make riding very pleasurable. The bike paths provide a vehicle free haven for cyclists to enjoy the scenery and be able to ride 2-3 abreast and converse with each other. From the bike paths we rode eagerly toward the state border crossing which took us on a bridge over the Ohio River to West Virginia. We stopped on the bridge to ceremoniously take group pictures. Crossing the state provides the chance to reflect on riding through a whole state and the excitement of discovering what stories the road has waiting ahead.
We followed back country roads all through West Virginia.  The team cycled along rivers and streams, over the rolling hills, and around winding roads. There was a peaceful tranquility in the back country. It was great to ride and all you hear is the song birds in the forest. The tree lined hill ridges and pastures were lush with vibrant green grass and wildflowers from the spring growth.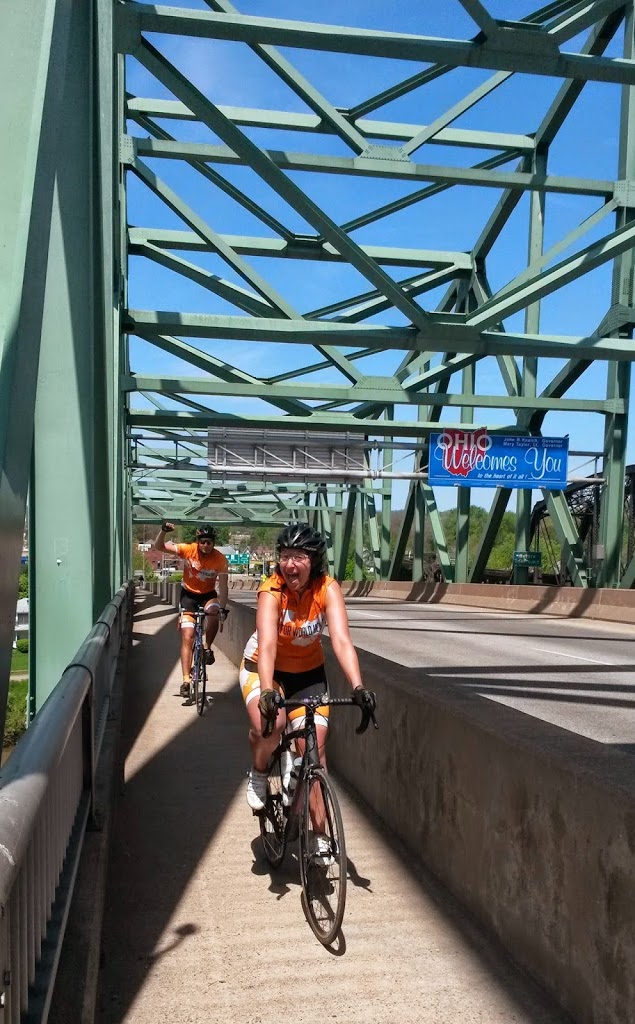 The entire day was quite challenging for me because I started the day extremely sore for the 87 mile day the previous day. After a week off, this 87 mile day to Athens was the longest ride I had done since we were in Arizona. I pushed through the soreness up the hills and kept my focus on cycling form to get through the days. It is extra important when I am very sore to focus on using the full circular pedal motion of dragging the heels and engaging the hamstrings on the up pedal so that the quads don't do all of the work on the down pedal. Each day when I'm struggling through soreness, knee pain, fighting head winds, drenched with rain, or climbing hills I reach into my emotional bank for positive monologues and memories to keep myself going. I learned the idea of writing down and practicing positive monologues from Heather Gollnick's book Triathlete EQ.
"When the body is heavily fatigued and being filled with new chemicals (hormones) whose specific instinctive purpose is to convince you to slow down and give up (in order to preserve your body from any amount of pain. Monologues quickly turn to internal dialogues with negative and positive thoughts taking turns to convince you to give up or keep going."
Gollnick suggests to write down positive moments from successful races, motivating memories, and strong feelings which can keep your energy uplifted. By visualizing and revisiting these positive thoughts one can create internal positive monologues to help convince your body emotionally and therefore physically to successfully stay calm and focused under pressure and adverse conditions.
Engaging in positive monologues really helped me get through the hilly day with a sore body. The beautiful scenery boosted my morale, putting a smile on my face, and reminded me how much fun I'm having and how fortunate we are to be seeing America by bicycle. When I'm really bogged down, I reach into my most positive memory from the trip: I look back on the extreme enthusiasm we had on our first day of riding and it always ramps up my mood. If I ride every day like I'm going on the adventure of a lifetime, my mind convinces my body to achieve something greater. The mind is a powerful tool when it comes to motivation.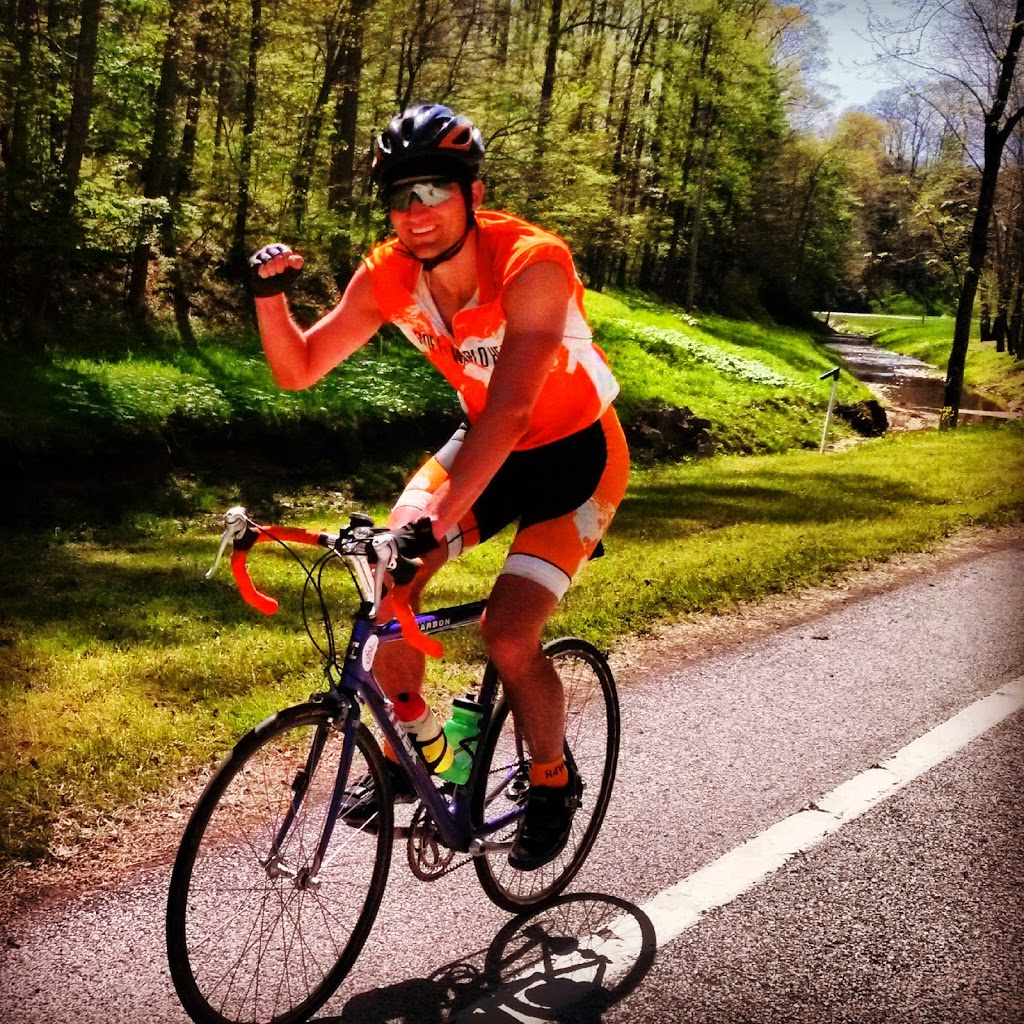 I asked some of my teammates what has motivated them internally to get through some of the most physically demanding parts of the ride:
Jason: I think about how good I'm going to feel at the end of the day, the harder you work, the greater feeling accomplished I have. For Jason he felt most accomplished after the third century in a row when his legs were so extremely sore it felt like there was no strength to push the pedals down. The satisfaction of riding over 300 miles in 3 days kept him going.
Sarah: For Sarah the hills push her physical limits. She reminds herself that she always has the choice to SAG (get picked up by the support vehicle), but she can also make the choice to push herself to the top the hill. Knowing that there is an option to stop gives her the courage to take control keep going.
Mike: A 126 mile day to Amarillo (after a 114 mile day) pushed his physical limits and he got motivation from another rider, Michele. By cycling together they were able to encourage each other through the long day.
Matt: On another 126 mile day Matt pushed himself farther then he has ever gone on a bike by looking back on how far had already gone and finishing what he had started. He almost bonked at the end of the day but a boost of energy from some Powerbar gels and cheers from the SAG van pushed him to finish.
Reflecting on instances that push both your mental and physical limits, thinking about what got you through those tough moments, and focusing on the accomplishments all help you deposit into your bank of positive monologues. You never know when you might be faced with adversity and need to make a withdrawal.
What memories positive memories and influences you to drive yourself forward through hard times?